Novak Djokovic will have to return on Monday to finish his fourth round match with Hubert Hurkacz at Wimbledon.
The seven-time champion was leading by two sets 7-6 (8-6) 7-6 (8-6) when play was suspended due to the 11 pm curfew.
Djokovic saved two set points in the first set and battled back to earn another tiebreaker in the second on Center Court.
The Serb, who is bidding on a fifth straight Wimbledon title and eighth overall, will be sleeping much easier than he might have if 17th seed Hurkacz had taken the first set after two aces saw him pass to a 6-3 tiebreaker. break.
But the pressure of trying to drive Djokovic away was too much, as the 36-year-old won both of his points on serve to close the gap and then returned a Hurkacz howitzer that the Pole scored. Another forehand over the baseline allowed Djokovic to take the first set.
With the clock ticking towards the 11pm Wimbledon curfew, Djokovic searched for the break of serve in the second set that could have broken Hurkacz's resistance, but every time he scented a break, an ace flew past him: 23 in all, including one clocked at 141 mph. – the fastest serve of the tournament so far.
Another tiebreaker ensued and Hurkacz won some excellent rallying from the baseline to salvage a set point, but two points later he sent a forehand down to give Djokovic a two-set lead before the players went to the locker room.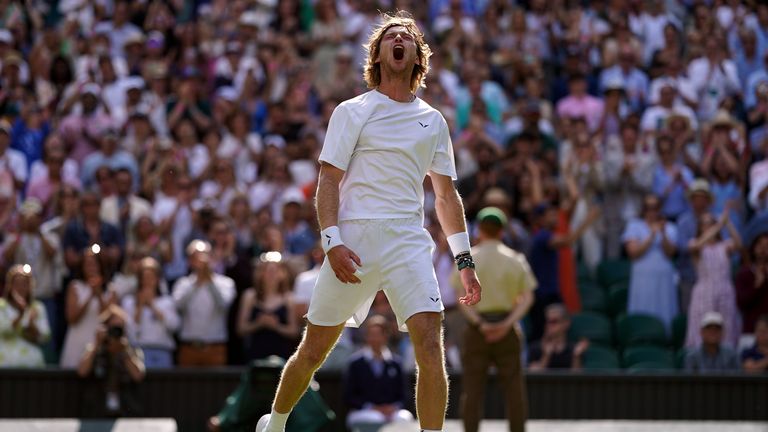 The winner will face the seventh seed Russia. andrei rublev he then dove into the quarterfinals with an extraordinary shot to bring up a match point against Alexander Bublik.
Rublev was in the middle of the baseline when Bublik hit what he, and everyone else on Center Court, thought was a clean winner down the line.
But the Russian lunged forward, put a racket on the ball and somehow made it float over the net as Bublik scratched his head in disbelief.
Rublev, who had been two sets ahead but was outplayed by his opponent from Kazakhstan, sealed a 7-5, 6-3, 6-7 (6-8), 6-7 (5-7) 6-4 victory later. one of the most entertaining matches of the Championship.
"It was the luckiest shot ever," said the 25-year-old. "It was luck, nothing more. I don't think I can do it one more time."
Rublev, in the quarterfinals at Wimbledon for the first time, joined his fellow Russian Roman Safiullinwho became the lowest ranked men's quarter-finalist here since Nick Kyrgios in 2014.
The world number 92 defeated Canadian number 26 seed Denis Shapovalov 3-6, 6-3, 6-1, 6-3.
He will face the sixth seeded Italian jannik sinnerwho defeated Daniel Elahi Galán of Colombia 7-6 (7-4) 6-4 6-3.