Leon Edwards retained his welterweight title by defeating challenger Kamaru Usman at UFC 286 by majority decision to extend his unbeaten streak to 12 in his first title defense.
Judges scored the trilogy fight at London's O2 Arena 48-46, 48-46, 47-47 in favor of the Briton, who landed the cleanest blows in their third fight.
"I knew he could go out there and take his shots," Edwards said. "Even when he was pushing, not much happened."
This was their third meeting, more than seven years after the first fight Usman won.
Edwards got off to an encouraging start, landing two hard kicks to the body in the first round. The 31-year-old's increased speed made Usman uneasy, but the challenger dropped Edwards briefly in the second round before the two fighters traded some heavy blows.
Usman dropped Edwards to the ground again early in the third and the latter was awarded a point for grabbing the fence, leading many to believe the points were tied at 28-28 heading into the fourth round.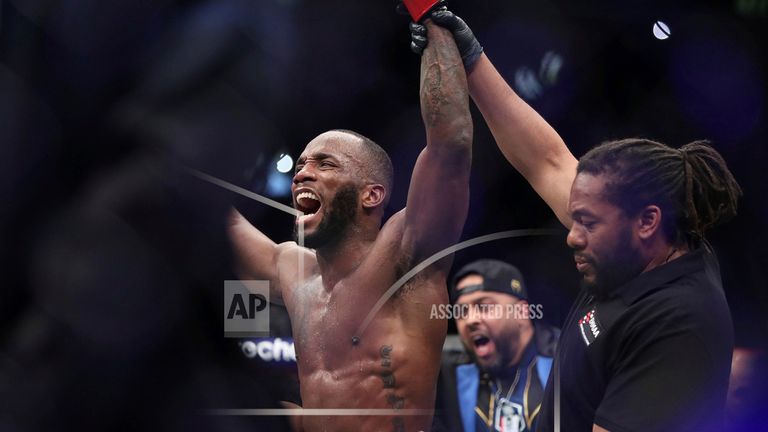 A similar pattern played out in the fourth, which was just as close, with Edwards looking to keep his distance while Usman tried to close.
Edwards evaded two more takedown attempts in the final round and caught Usman with an uppercut, but took a blow to the body as his title defense went to the limit.
Edwards had ended Usman's long reign as champion with a fifth-round kick to the Nigerian's head and neck in Salt Lake City in August at UFC 278.
"I think I did enough to win the fight," said Usman, 35. Sport after the defeat. "I have not finished".
He also showed good sportsmanship when talking about Edwards' victory: "I knew it was a close fight. Great game plan. I always said it from the beginning, I knew I'd see Leon again and I'm not done." I will see him again.
"I've always supported him for everything he's been able to accomplish. He's just like me. It's in his blood. Much respect, London. You've got a great champion and a great guy."