The Scottish FA is writing to UEFA for clarification over Scott McTominay's disallowed goal in Thursday night's 2-0 loss in Spain.
The Manchester United midfielder looked to have put Scotland ahead in the second half, however, following a VAR check his free-kick was ruled out by Dutch referee Serdar Gözübüyük.
It appeared the goal was initially disallowed for a foul by Jack Hendry on goalkeeper Unai Simon but was then attributed to offside – with the Scotland defender deemed to be interfering with play and impacting Simon's ability to save the shot.
Sky Sports News understands the SFA wants clarity on the decision-making process and chronology of seemingly conflicting events.
However, a UEFA source confirmed to Sky Sports News on Friday that McTominay's strike was chalked off for offside against Hendry by referee Gözübüyük.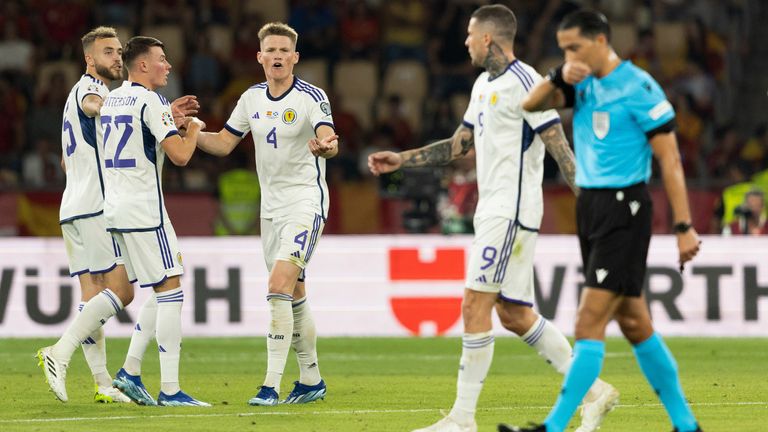 Spain won the Euro 2024 qualifier in Seville 2-0 but Scotland – who remain top of Group A – could still qualify for next year's tournament in Germany if the Spaniards avoid defeat in Norway on Sunday.
Failing that, Scotland visit Georgia and then are at home to Norway next month as they look to seal a spot at consecutive European Championships under Steve Clarke.
"At the time, we think it is a goal," the Clarke said, when asked about the incident. "You know when the referee gets told to look at it, he is probably going to chalk it off. They have made the call, there is no point in me going on about it.
"I think there was a little bit of confusion at the time, whether it was offside or for a foul on the keeper.
"If you take those two together, Jack Hendry was marginally offside and when he steps towards the goalkeeper, they have interpreted that as Jack being involved in the play but I will tell you now there is no way in the world the keeper was saving that, no matter where Jack Hendry was.
"You just move on. It is a VAR decision that goes against you. When we conceded, it makes it more difficult and the second goal puts gloss on for Spain I don't think they deserve."
McGinn: Circumstances made winning impossible
During the match, Clarke had urged his players to remain calm amid the controversy of McTominay's disallowed goal although at the time John McGinn was confused as to why it hadn't been awarded.
Speaking to Viaplay, vice-captain McGinn said: "He changed it in-game, which was a frustrating thing. It shows it's not clear and obvious.
"At that moment, Jack makes a decision to step the other side. Is he going to save it? No chance, absolutely no chance.
"At first he says it's a foul, then he changes it to an offside when he realises it's not a foul.
"It's a hammer blow. That qualifies us, that goal. They need to score two. I feel for big Scott [McTominay], but sometimes these things go for you and tonight it was never going to.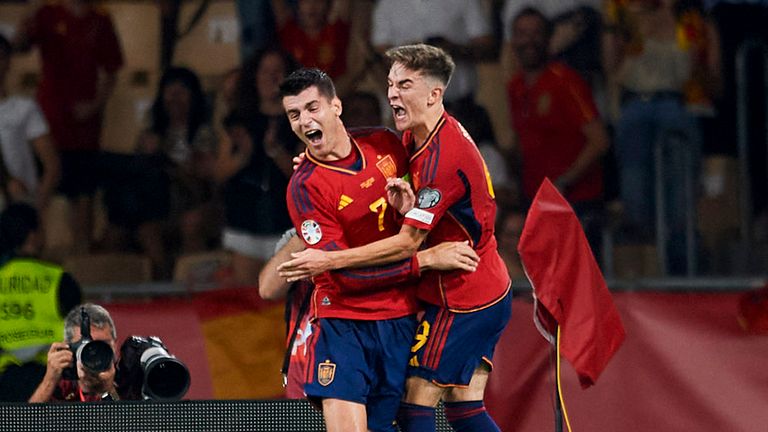 "We can't be too disappointed. We wanted to qualify tonight and we were capable of it. We don't want other teams to do it, we want to do it ourselves.
"The big moments went against us. There's no doubt we can still improve but we put in some shift.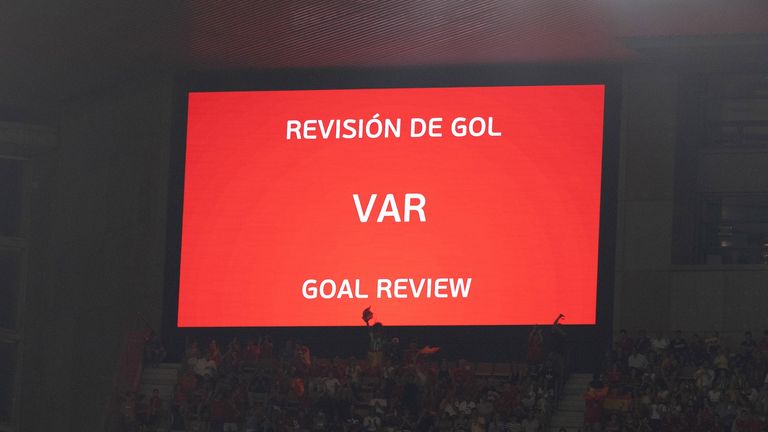 "We knew a point would get us there, and it's a really tough one to take with a sore blow losing Robbo [Andy Robertson] so early.
"Then thinking we're ahead, that going against us, we regrouped but they scored the opener – maybe we can defend that better but it's a tough one to take.
"We competed for long spells, it's tough to win here but in the circumstances, it was near enough impossible.
"Everyone watching that game from a Scotland point of view, on the pitch, in the stand, in the dugout, it felt like we weren't going to get a decision.
"50-50 balls, going in for fair challenges and not getting them, it made it extremely difficult against a world-class team to get anything.
"You need a perfect performance to win here, and it was never going to happen."