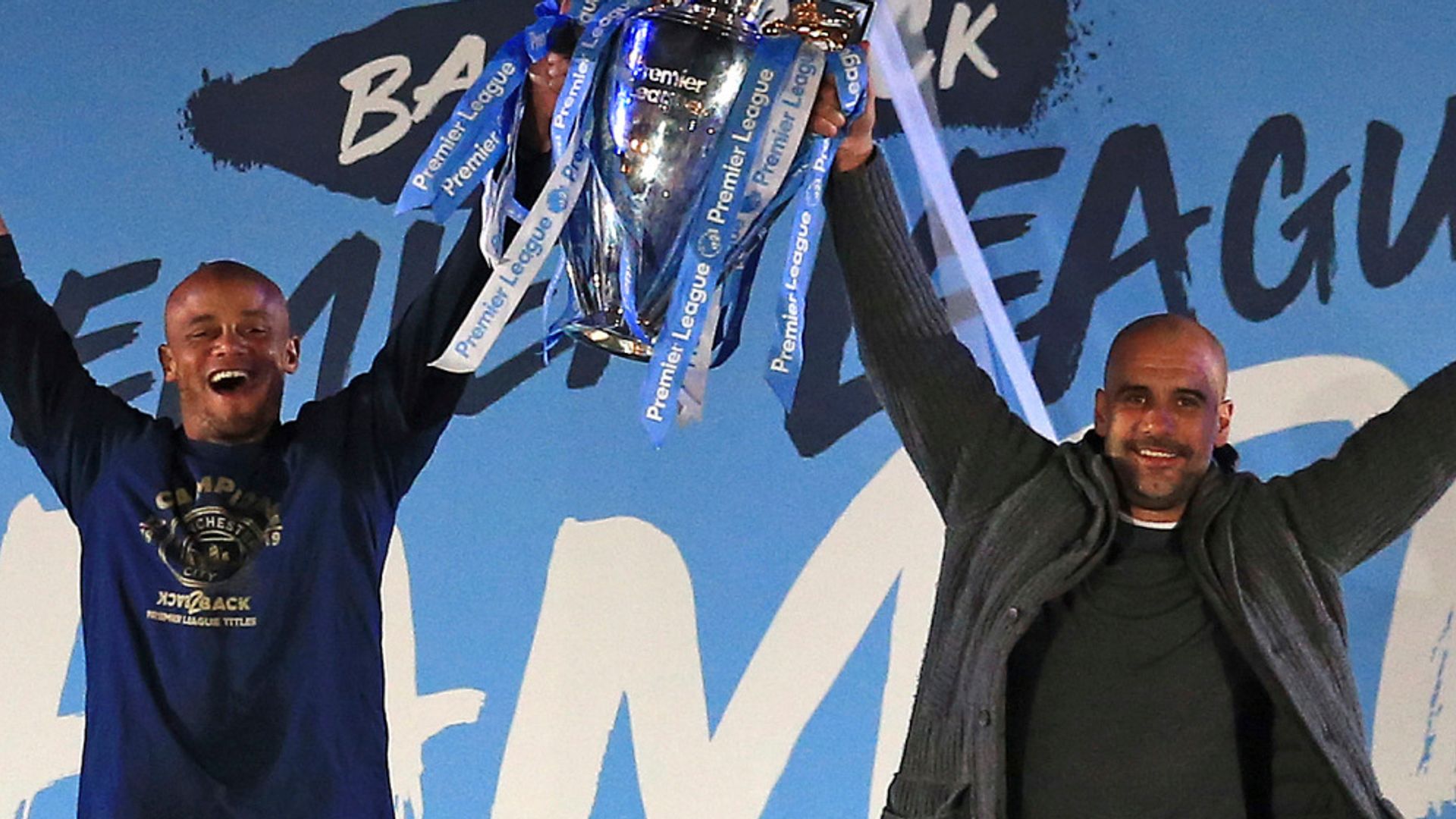 Pep Guardiola is "more than convinced" that Burnley manager Vincent Kompany will one day return to the Etihad as Manchester City manager.
Kompany served City as a player for 11 years, including eight as captain, leading the club to four Premier League titles in that time and scoring one of the club's most famous goals of all time to beat Leicester and nearly seal the 2018/19 trophy.
Now the manager of FA Cup quarter-final rivals Burnley, he has continued their success off the pitch, with his side just five games away from sealing their return to the Premier League under his stewardship.
"Maybe he doesn't agree with me, but having seen his teams today I am more than convinced that he will come back," Guardiola said before Saturday's game. "When? When I said my feelings weeks ago, this part I don't know. But it's going to happen."
"It's good that he's back, but in the last two or three days I've been thinking about what they've done this season. What I saw didn't surprise me at all about the position they're in, being so close to being a team of the Premier League next year already.
"Seeing what they do up close, I completely understand. They're going to be very, very tough because they do amazing things on the field."
"A manager needs time but to be successful with a team, and he needs to convince [them] as soon as you think it is the best way to win the games so that it suits the players perfectly.
"They have a good team, and their way of playing is exceptional."
Guardiola also paid tribute to the impact Kompany had on City and his teammates during his time at the club, including three years with Guardiola, during which the pair won back-to-back league titles in 2018 and 2019.
"Everyone knows that he was an incredibly important figure here," he said. "He is one of the biggest legends the club has ever had. Personally, I regret that he was injured most of the time I was here.
But the important thing is how he helped me from day one. I came here from another country, I didn't know the Premier League and in bad times his influence in the dressing room always helped the team take steps forward.
"For me, he said the things he thought were best for the club. He was an exceptional captain, a great human being. On the other hand, I'm a bit worried because when you start playing with the other coach on the touchline a player you had, you realize how old you are getting".
'It's not easy' for Álvarez at Etihad
Julián Álvarez signed a new one-year extension less than 12 months after joining the Etihad, having won the World Cup and contributed 10 goals in 33 games in his debut Premier League season to date.
Guardiola praised the work ethic and patience of the 23-year-old behind Golden Boot leader Erling Haaland in City's pecking order, saying the Argentine forward's time in the spotlight will come.
"It's not easy for him because of the fact that he plays in the same position as Erling," Guardiola said. But his behavior off the pitch, despite not playing with the potential he has and being a World Cup champion, when he plays his contribution is incredible.
We all believe that he is a future player and we are delighted that he has signed a new contract and adjusted to the new salary that he deserves.
"The players don't believe me, but most of the time we think more about the guys who don't play than the guys who play regularly. I try to care and pay attention to those guys, especially if they deserve it, if they think about the team If it's about me, me, me, then after that, I don't care, I don't pay much attention.
"But every player who thinks about what is best for the team, who is sad not to play but who also thinks about the club, I will be behind them."