Napoli beat Eintracht Frankfurt 3-0 on Wednesday to reach the Champions League quarterfinals for the first time in club history and place all three Italian teams in the final eight.
Victor Osimhen continued his excellent goalscoring record with a goal in each half and Piotr Zielinski converted a second-half penalty as Napoli advanced 5–0 on aggregate.
It is the first time since 2006 that three Italian teams have advanced to the quarter-finals of Europe's top club competition.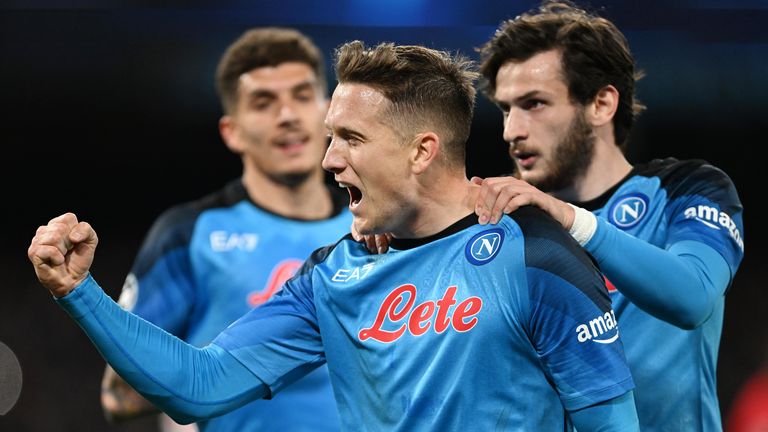 There are no more restrictions on teams from the same country playing each other, so Napoli could face either Inter Milan or AC Milan when the draw takes place on Friday.
The other teams in the final eight are Bayern Munich, Benfica, Chelsea, Manchester City and Real Madrid.
Trouble on the city streets between fans marred the evening, but on the pitch traffic was one way as a Piotr Zielinski penalty sealed victory for the Serie A leaders.
Napoli were always favorites to advance after a fine win in Germany and a fine header from Osimhen on the stroke of half-time put them on their way.
A close range finish after the restart all but ensured safe passage before Zielinksi won and scored a penalty.
Opta stats: A historic night for Napoli…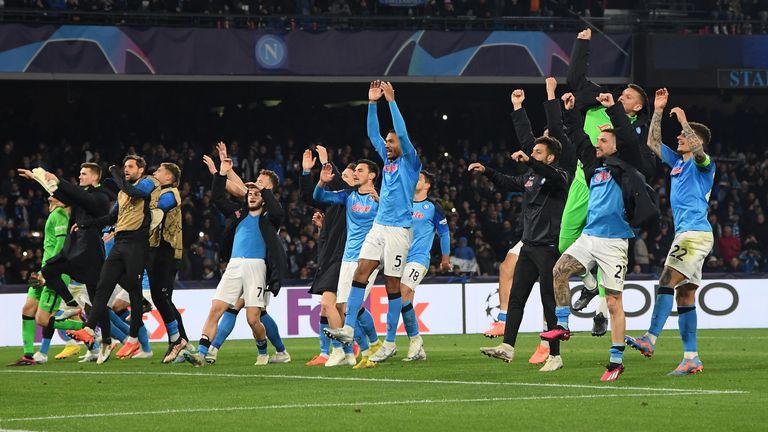 Napoli have qualified for the quarter-finals of the European Cup/UEFA Champions League for the first time in their history.
Napoli's win tonight marks the biggest joint joint win by an Italian team in the UEFA Champions League round of 16, along with Juventus 5-0 Celtic in 2012-13, and Milan 5-0 Intern in 2004-05 ( one of those legs was a victory conceded to Milan).
Following Napoli's progression, and along with Intern and Milan, this is the first time three Italian teams have qualified for the quarter-finals in a UEFA Champions League campaign since 2005-06 (Inter, Milan and Juventus). .
Napoli has scored more goals in the UEFA Champions League than any other team this season (25); in fact, only three Italian teams have scored more in a single campaign in the competition (Juventus 30 in 2002-03, Inter 26 in 2002-03 and Lazio 26 in 1999-00).
Victor Osimhen became the first Napoli player to score in both legs of a UEFA Champions League knockout phase tie, while his brace in this match was the first scored by a Nigerian player in the knockout phase of the UEFA Champions League. competition.
Among all players in Europe's top five leagues, only Marcus Rashford (15) has scored more goals in all competitions in 2023 than Napoli's Victor Osihmen (13).
Eintracht Frankfurt lost both legs of a European Cup/UEFA Champions League tie for the first time, while two of their five defeats in the two competitions have come against Napoli.
When is the draw?
The quarter-final and semi-final draws will take place on Friday 17 March at 11am UK time in Nyon, Switzerland at UEFA headquarters.
The eight round of 16 winners participate in an open draw for the quarterfinals and semifinals.
There is no seeding or country protection, so clubs can face opposition from the same country. They can also draw teams they previously played with in the group stage.
A final draw to determine the 'home' team will also take place for administrative reasons for the main event in Istanbul, Turkey on June 10.
You can follow the draw with sky sports live blog, so you can stay on top of everything here.