Madrid Open organizers have apologized to the women's doubles finalists at this year's tournament following criticism for denying the players the chance to deliver speeches at the trophy ceremony.
World number three singles Jessica Pegula, who partnered Coco Gauff in her 6-1, 6-4 loss to Victoria Azarenka and Beatriz Haddad Maia, said on Sunday she was disappointed after organizers did not allow the finalists address the fans.
The men's doubles finalists were able to do so after their match the day before and tournament organizers apologized to players and fans "who expect more from the Madrid Open."
"Our most sincere apologies to all the players and fans who expect more from the Mutua Madrid Open," said tournament executive director Gerard Tsobanian.
"Not giving our women's doubles finalists the opportunity to address their fans at the end of the match was unacceptable and we have apologized directly to Victoria, Beatriz, Coco and Jessica."
Azarenka had said on Twitter that it was "difficult to explain" to her son Leo why she was unable to speak at the ceremony.
"We are working internally and with the WTA to review our protocols and we are committed to improving our process going forward," Tsobanian said.
"We made a mistake and this will not happen again."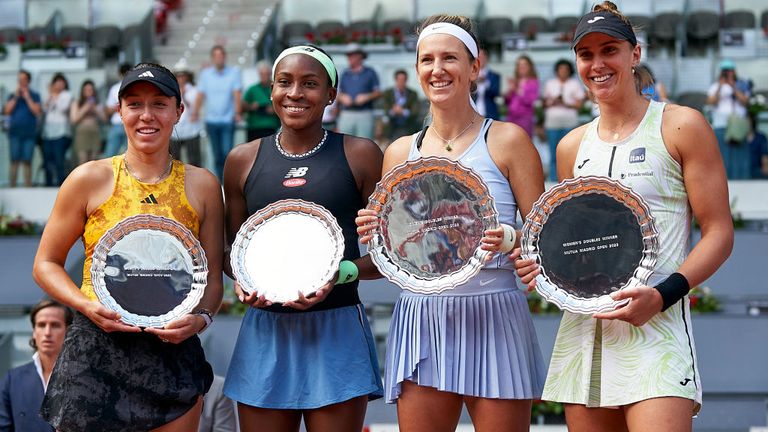 Ahead of this week's Italian Open, Pegula said: "What happened in Madrid was really disappointing. I had a feeling something was going to happen. I thought we weren't going to be able to talk? No.
"I've never heard of that…in my life. I don't know what century everyone was living in when they made that decision, or how they had a conversation and decided, 'Wow, this is a big decision and there's not going to be any reaction in against this.'
"I never heard in my life that we couldn't talk. It was really disappointing. In a $10,000 final you would talk."
"It spoke for itself. We were upset when it happened and we said during the trophy ceremony that we couldn't speak. It somehow proved to be a point."
Gauff added: "I have a lot of finals so it's not about that. It's more about the principle behind it, so this can't happen again for future girls, take away the opportunity."
Sexism Row Tournament of Hits
The tournament has been plagued by accusations of sexism aside from the controversy surrounding the speeches.
Ball boys in Sunday's men's final wore different outfits from earlier in the tournament following complaints about the cropped tops and short skirts they wore, while ball boys in the women's matches wore looser-fitting polo shirts and shorts.
The size of the birthday cakes presented to the players was cited as another example of how male and female players were also treated differently at the Madrid Open.
Eventual men's champion Carlos Alcaraz received a three-tiered cake to celebrate his 20th birthday following his semifinal victory on Friday.
However, world number 2 and women's singles champion Aryna Sabalenka was given a single-tier cake after her 25th birthday on the same day she didn't have a match.
The Madrid Open offers the same prize money at ATP and WTA events, with singles champions taking home just over £1m and doubles champions sharing £330,000. Pegula and Gauff shared £176,000 as doubles runners-up.