Kamaru Usman claims that he and Leon Edwards know who the superior fighter is ahead of their trilogy fight at UFC 286 in London on Saturday.
"He is the champion and I will give it to him, but he and I know it," Usman told Sky Sports, despite being knocked out by Edwards in August.
Edwards, 31, of Birmingham, became the UFC's second British champion when he stunned Usman, but the latter wants to make sure the welterweight title is short-lived.
"I'll take care of him on March 18," Usman added. "I've never been disrespectful to Leon. If anything, I've been the only guy who has given him respect throughout his career.
"I'm not going to start now. He said a couple of things now that I've been offended, but I'll talk to him about it Saturday night.
"When I go in and fight these guys, I don't fight their abilities, I fight guys with better boxing, better kickboxing, maybe better wrestling credentials, but it doesn't matter, it's all about how you mix it up. That's the beauty of this. sport is that it's called mixed martial arts and I don't think there's anyone in the world who would agree that he's better at MMA than I am."
Edwards, born and raised in Jamaica before moving to the UK at age nine, is relishing the prospect of fighting at The O2 and is confident of beating Usman in front of a home crowd.
"I enjoy the moments. This is my fifth or sixth main event so I've been in a main event before," Edwards told Sky Sports. "I understand that it is a power struggle, but it is the same cameras, more screens, that is all. It's the same cage, the same Usman.
"I know it's going to be crazy, but let's not make it too complicated. It's going to be a packed stadium and I'll be able to enjoy it with my family. That's the only difference for me, more friends and family there."
"I think Kamaru is Kamaru, since the knockout he's been downplaying it, 'I'm happy I lost the fight.' Everyone says the same thing when they lose, the story doesn't change, 'the pressure on me and blah blah blah.'"
Meanwhile, Usman played down the pressure, says confidence "never left" and stressed that he will return "home" fighting in London.
"My fans! These are my fans," said 'The Nigerian Nightmare'.
"Everybody keeps saying you're coming into enemy territory, I'm home, this is London. These are my people here, they love me, they tell me all the time they want me to go to London and do a performance." for them I ordered this, I could have waited and done it in Vegas, but no, 'Let's go to London.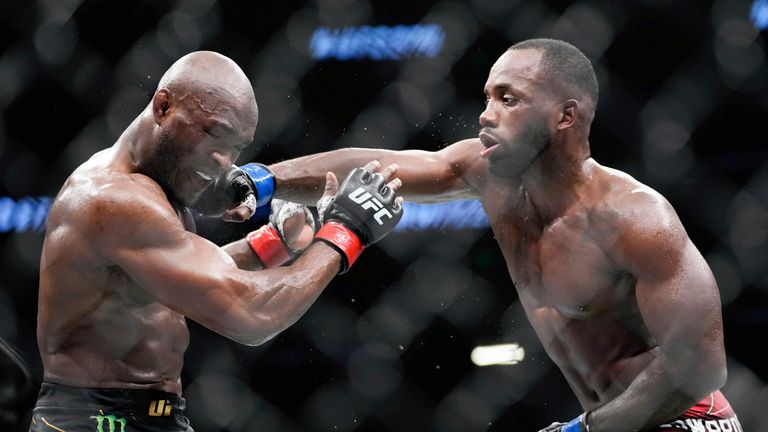 "I love the support. It shows how massive the sport is and how much it's growing. I love it, whether they're yelling for me or against me."
Addressing rumors that he goes down the stairs backwards, Usman added: "I don't have to, I choose to. I'm smart, I'm preserving my knees so I can last longer."
"I could walk forward, and sometimes I do, but most of the time I walk backwards. I can do it in the dark, I've been doing it for years."
'Why is everyone calling McGregor?'
Edwards is eager to focus on Saturday, but when asked about a potential next fight, he questioned why every fighter seems to be calling out Conor McGregor, 34, whose last fight was when he lost to Dustin Poirier in July 2021.
"I don't understand why everyone calls Conor, he hasn't fought in a long time. I know he was a huge star in the sport, but if you keep doing what you're doing anyway, you can get the money and you could get the Conors .
"I need to focus on what I need to do. Every fighter from heavyweight to strawweight is calling him, it's weird. I don't get it, I'll still be me, I'll just be the champion." My goal is to be the best of all time."
When asked hypothetically if there was equal money on the table to fight McGregor or Jorge Masvidal next, Edwards didn't hesitate.
"Masvidal," he added, with his 2021 fight canceled due to injury to the American.
"There's a story behind it, there's a motivation there. The motivation would be that I don't like it."