No one is more interested in following the development of the negotiations between Tyson Fury and Oleksandr Usyk than London heavyweight Joe Joyce.
Fury, the WBC title holder, and Usyk, the WBO, WBA and IBF champion, have clashed verbally as they neared a deal to fight for the undisputed heavyweight crown on April 29.
Of the champions' mandatory challengers, Joyce is arguably the top contender. He previously beat Daniel Dubois as a professional and also defeated Filip Hrgovic in the World Series of Boxing as an amateur.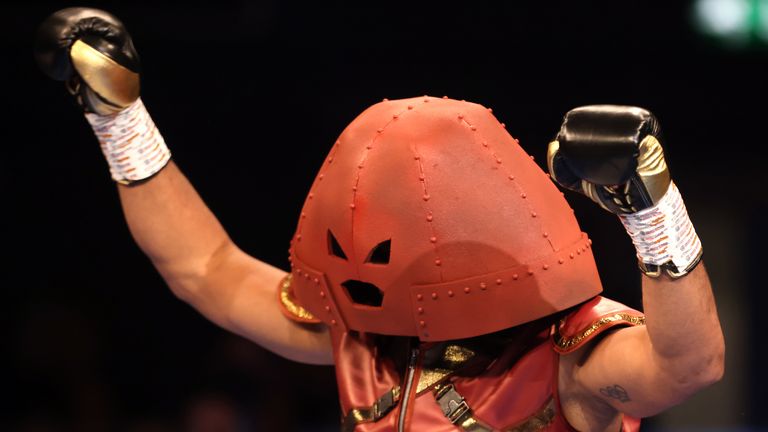 He mostly recently knocked out Joseph Parker in impressive fashion.
"If you wanted to make a statement, that was a statement there," Joyce said. sky sportsToe2Toe podcast.
"Great fight though, lots of respect for Parker, he pushed me all the way. It was an exciting fight, he had good exchanges."
"I threw the kitchen sink at it, everything and it finally fell off."
Like the rest of the sports world, he has been watching the progress of the Fury-Usyk negotiations.
"It's getting a little long," Joyce said. "Fury has 70 percent [the proposed fight purse]I guess it's happening now."
Joyce believes that Fury has plenty of time to prepare for April 29. "Camp started, I guess Usyk is already at camp," Joyce said. "Maybe he knows something we don't."
The likable Londoner would be happy to step in to fight Fury or Usyk for a world heavyweight championship, even on short notice.
"Possibly," he hinted. "That's a good backup plan, I guess."
However, it is most likely that Joyce is pushing for his shot at the Fury-Usyk winner.
"Finally. That would be something, wouldn't it?" he said. "There's been a lot of rematch clauses lately. They're getting long, aren't they? It's pretty refreshing to hear there isn't one for this fight. I get to come in later, fight the winner."
Although he lost to Usyk in the World Series of Boxing, he would rather face Fury.
"Usyk, I wouldn't mind fighting again either. But Fury is a bigger fight," Joyce said.
"They're going to be 'Juggernauted,'" he declared.
"I am confident in my abilities and I think it would be a great fight against any of them. But I really like the sound of Fury's fight.
"Can you imagine? Undisputed sounds good. Undefeated, undisputed maybe."
On the Zhilei Zhang fight
Joyce has proven that he deserves a place among the heavyweight elite. His next fight will be on April 15 against Zhilei Zhang. As a seasoned, heavy-handed southpaw, China's Zhang could be ideal preparation for an eventual fight with Fury or Usyk.
"I haven't fought a southpaw since Lenroy Thomas, so it's good to come in and practice," Joyce said.
"Because as we know Usyk is a lefty and Fury can also switch lefty. Great preparation for the next round of competition."
He believes that his fight with Zhang could be another war, at least at first.
"I would say in the first five rounds he would be quite dangerous. He has the power and the experience," Joyce said.
"It's going to be awkward because he's a lefty, he has good amateur experience and he's also an Olympic silver medalist."
He believes Zhang was unlucky to lose a decision to Filip Hrgovic in his last fight. "It was a tough fight until the end, but I think he did better overall and he was unlucky," Joyce said.
"I was blowing correctly in the last round. It's a good story because I beat Filip Hrgovic in WSB, I'm fighting Zhang who unfortunately lost to him.
"It's an exciting fight, a risky opportunity, but it's a really good fight."
On Yoka's loss to Takam
Another of Joyce's amateur rivals, Frenchman Tony Yoka, did not fare well when he fought Carlos Takam, one of Joyce's former professional opponents, last weekend.
"I fought Takam and trained him last camp as well. He's a good guy and it was good to see him get the win. He boxed very well," Joyce said.
"Yoka, I don't know. I don't see much difference with the fans, especially in that performance. He's keeping his guard up." [tight]. The punches he landed were good, but not that many."
Joyce lost a highly controversial decision to Yoka in his Olympic super heavyweight final at Rio 2016. But Joyce can compare how she has progressed with Yoka's professional fights.
"Where he was an Olympic champion, he's too overconfident. His ego and being able to pick his opponents," Joyce said of Yoka.
"I was saying in an interview, I don't think Joyce does anything professional and she seems to have failed."