Is there such a thing as destiny?
"Maybe you can believe in this," Wolves manager Julen Lopetegui said.
In 2016, Lopetegui discussed with Wolves about taking over as head coach. Wolves had just finished 14th in the Championship the previous season, but the opportunity arose to manage the Spanish team and, understandably, he took charge of his country.
Fast forward five years, Lopetegui finally made it to Molineux, only to take charge of the bottom Premier League club after 15 games, four points behind 19th.
In the last seven years, the clubs that were in the position of the Wolves – last after 15 games – had been relegated.
Although Lopetegui took charge of a challenging situation, Wolves confirmed their Premier League status for another season after beating Midlands rivals Aston Villa with three games to go.
"I think it's a great success for the club, for the players and for the fans," Lopetegui said. Sky Sports News.
"The most important thing was to believe. I believed that we could change the situation, knowing that maybe it was a big risk."
"A lot of people called me saying: 'You're crazy, you don't need to go to the bottom of the Premier League', but at the time, my feeling was that I believed.
"I feel that it was a challenge for me as a coach, I like difficult challenges and that's why I am a coach, our life is not easy at many times.
"For me coming to another country, another league, the best league in the world, without a doubt, in a very dangerous situation, it was a challenge."
Lopetegui for much of his career has been competing at the top of the table for league titles and European football.
Having won the Europa League with Sevilla and multiple cups with Real Madrid and Barcelona as a player, where does keeping Wolves in the Premier League?
"It's the most important achievement as a coach," Lopetegui said. "I was lucky to win trophies, I won the Europa League, I was in the Champions League on consecutive occasions with Sevilla, but this was a special achievement because of the difficulties we had.
"I'm not used to fighting for relegation, so for me it was a challenge: I had to change some things in my mind, but adapting is important in life and in football.
"We had two very good supports, one was the commitment of the players and the other is the commitment of the fans, they understood that we always need them, especially in bad times and I think that this has been key to achieving our goal."
Whats Next?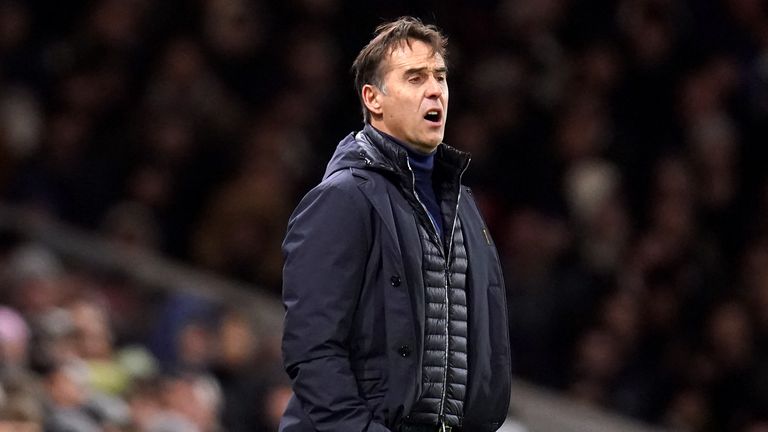 Now that the Wolves are safe, planning for the upcoming season begins.
The wolves have several players without a contract in the summer such as Adama Traore, Nelson Semedo, Diego Costa and Joao Moutinho, as well as questions about the uncertain future of captain Rubén Neves and Raúl Jiménez, who have one year left on their contract. .
Lopetegui said: "It's time to start thinking about the next project, we have to talk to the president, we have to listen to him, what are his objectives.
"For me it is very important to know his message so that we can build a good future together, that is why it is important for me to have this meeting with the president.
"We have talked but only about this year but not next."
captain neves
For captain Ruben Neves, it has been an eventful year. He took over the captaincy from Conor Coady after the centre-back left for Everton, and has led the team through what has been the most challenging season since Wolves' 2017 rise.
Neves is a player that Lopetegui knew well before coming to Molineux, he coached a young Neves when he was at Porto in 2014.
With speculation about Neves' future increasing unsurprisingly as the summer transfer window approaches, Lopetegui has nothing but praise for his captain since they met, come what may this summer.
"He started playing with me when I was 17 years old. I remember when I finished my job in Porto I told him 'I'd like to manage you at 25 and it's real, I've enjoyed working with him,'" Lopetegui said.
"He is a very good player, but above all he is a very good guy.
"He has a great commitment to the club, he is a good example. Of course, we will see what will happen in the future for all of us."