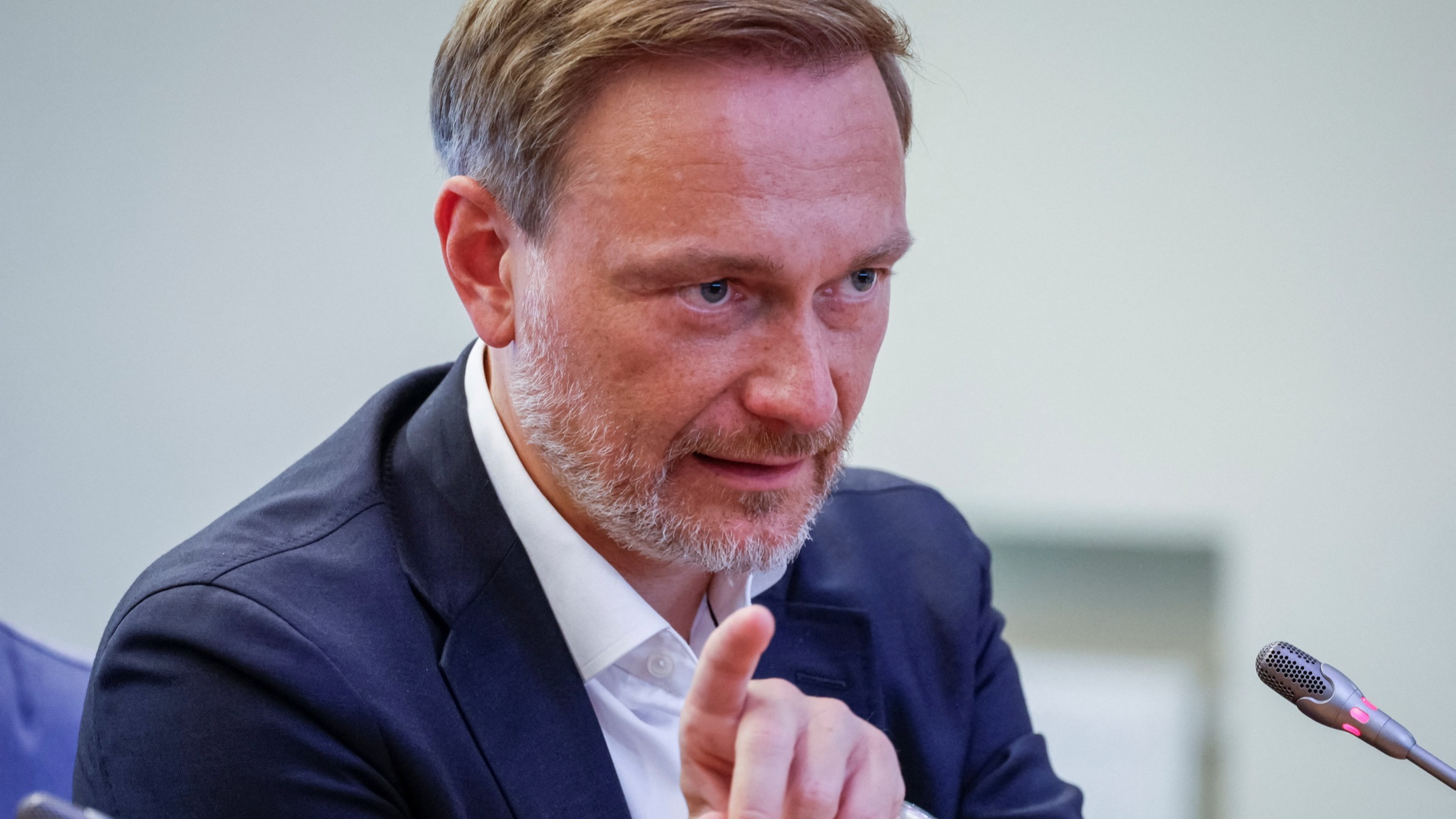 Receive free War in Ukraine updates
We'll send you a myFT Daily Digest email rounding up the latest War in Ukraine news every morning.
Germany's finance minister has thrown his weight behind Kyiv's calls for Berlin to supply cruise missiles, increasing the pressure on chancellor Olaf Scholz to deliver weapons needed to bolster Ukraine's faltering counter-offensive against Russia.
Christian Lindner, who as leader of the liberal (FDP) is one of the most senior members of Scholz's three-way ruling coalition, used a surprise visit to the Ukrainian capital on Monday to express "sympathy" for the idea of delivering Taurus missiles to the country's armed forces.
Lindner said Germany would discuss with its allies what was needed and what was possible. "Since I know that many have sympathy for such support, as I do myself, I hope that these questions will be clarified soon, very soon," he told a press conference in the Ukrainian capital.
He later added in an interview with the broadcaster ARD that while Germany was working on reaching a decision, it would be "faster and at shorter notice" than in the past. Lindner's comments were in apparent reference to the previous torturous deliberations in Berlin over whether or not to allow Germany and other nations to supply Ukraine with modern Leopard 2 battle tanks.
Scholz, who has faced mounting pressure to supply the missiles in recent weeks from both Ukrainian officials and German members of parliament, has so far refused to commit to supply the weapons, which have a range of around 500km. Taurus is produced by a joint venture between Germany's MBDA and a subsidiary of Sweden's Saab.
"As in the past, we will always check every single decision very carefully," the chancellor said in an interview on Sunday with the broadcaster ZDF.
Fearful of escalation with Moscow, Scholz has long taken a more cautious approach to weapons deliveries than his Green and liberal coalition partners.
Last week, news magazine Der Spiegel reported that German officials were examining whether it was possible to limit the range of the Taurus, to make sure they cannot reach targets in Russia.
A series of explosions and drone attacks on Moscow in recent weeks have increased concerns in western capitals of their weaponry being used for more than just defensive purposes.
Ukraine's ambassador to Berlin, Oleksii Makeiev, wrote on Monday on the social media platform X that limiting the range of the Taurus was "like forbidding the football players of the national team to enter the opponent's half of the field or to take penalties".
Lindner's intervention came as Germany's largest defence contractor, Rheinmetall, announced that it would ship its Luna drone system to Ukraine before the end of the year, as part of an "extensive" military aid package launched by Berlin last month.
The Düsseldorf-based company said on Monday that the order, worth a low double-digit million amount, would give Kyiv access to "one of the newest systems" for unmanned airborne reconnaissance, real-time object detection and classification.
Rheinmetall confirmed that the Luna drones are pure reconnaissance systems, meaning they cannot be used for attacks on Russian targets.
The Luna system — which the German government has previously used under the name Husar — consists of a ground control station with several drones, as well as a launch catapult, safety nets for landing and equipment for quick repairs. The company said it had a flight time of 12 hours, with a capacity to scope for activity in a range of "several hundred kilometres".
"If Germany decides to join the long-range missiles coalition by providing the Taurus missiles, this will bring victory closer and will be a very welcome development," said Yuriy Sak, an adviser to Ukraine's defence minister.
Kyiv had already received UK and French long-range missiles and was "using them effectively", Sak said. "The only missiles missing will be the US ATACMS which we hope will follow because these types of missiles, as with all weapons we are asking for, are foremost needed to save the lives of Ukrainian soldiers and people."
Germany's defence industry has been revived by the war in Europe, with companies such as Rheinmetall having become popular with investors not long after being considered largely untouchable owing to ESG investment criteria at many funds.
Rheinmetall has been among the biggest beneficiaries of Scholz's Zeitenwende — or "turning point" — in the defence policy of Europe's largest economy, which has come alongside a €100bn special military fund.
It has also propelled Rheinmetall's chief executive, Armin Papperger, to become one of Europe's most outspoken defence executives, frequently criticising Berlin and other governments for not placing enough orders for Ukrainian military equipment.
Video: Ukraine tech sector goes to war | FT Film