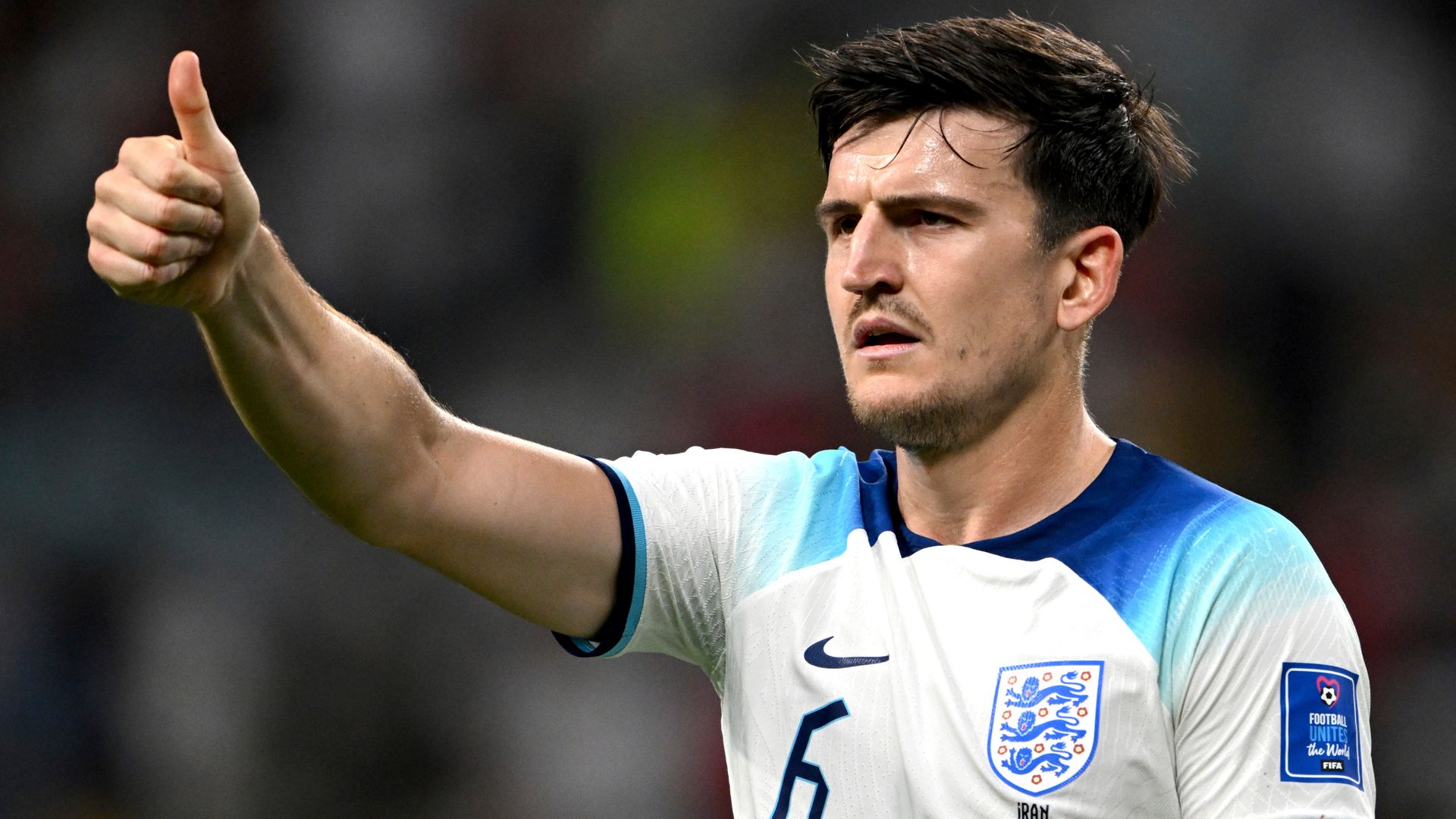 Gareth Southgate says it's "impossible" to pick fit players for England alone after naming Kalvin Phillips and Harry Maguire in his latest squad.
The Manchester-based pair have amassed just 238 minutes, the equivalent of fewer than three full games, between them in the Premier League since the start of 2023.
But England regulars have kept their places in Southgate's first team since the World Cup, with the likes of AC Milan's Fikayo Tomori and Southampton's James Ward-Prowse, as well as Brighton duo Lewis Dunk and Solly March.
After being appointed England permanent manager in 2017, Southgate said he would "never mess with reputation, form has to come into it."
But he has now retracted those comments when asked about the continued inclusion of some players who did not play for their clubs, saying he still believes England's player pool is "shallow" in some areas.
"It is impossible [to just pick players who are playing]", he said. "We have to choose our best players when possible, and then there is a balance between looking for a certain level of player who does not play as regularly, or a level that is physically fit and doing well.
"It's interesting to talk to other national team coaches who feel the same way, and they feel the same way about picking your best players, as long as they can get to a reasonable fitness level.
"That's where we are, really. You'd love to have that depth, but we're shorter than the other big nations in selection depth. I'm happy with the quality we have to pick from, but in certain positions we lack depth.
"Those numbers are deteriorating rapidly in the Premier League, it's not a concern for me in the next 18 months, but in four or five years, we have to be very careful about that."
Southgate reserved praise for March and Dunk, who have helped catapult Brighton within two points of fifth-placed Newcastle, and still within an outside kick of qualifying for the Champions League.
Dunk's only England cap came in a friendly with the USA in November 2018, while March, who has scored three goals in his last five games, played five times for Southgate's Under-21 side earlier in his career.
"They are playing very well, their club is playing exceptionally well," Southgate said. "The coach is doing an incredible job, he has the team playing in a unique style in our league.
"They're having an outstanding season as a club. Solly, we had him in the Under-21s with us, he's a player we know well. But right now I don't see him ahead of Jack Grealish, Marcus Rashford, Phil Foden, Bukayo Saka, in those positions on the field.
"These are tough decisions, but we're always seeing everyone regularly, live or on our system throughout the week.
"There's not a game we're missing, and we know there are some players who are playing well for their clubs, but I have to choose the team and the squad that I think best gives us a chance to win in the two really important games that will take place. coming". above.
"Experience is part of it, we go to Napoli and we play Italy, which is a top team; it's a different type of environment and you have to get the right balance of experience for those types of games."
The full England squad…
Goalkeepers: Jordan PickfordNick PopeAaron Ramsdale
Defenders: Ben Chilwell, Eric Dier, Marc Guehi, Reece James, Harry Maguire, Luke Shaw, John Stones, Kieran Trippier, Kyle Walker
Midfielders: Jude Bellingham, Conor Gallagher, Jordan Henderson, James Maddison, Mason Mount, Kalvin Phillips, Declan Rice
Forward: Phil Foden, Jack Grealish, Harry Kane, Marcus Rashford, Bukayo Saka, Ivan Toney
Ivan Toney: More than a Kane understudy for England?
On the eve of Brentford's first Premier League game in August 2021, Thomas Frank made a promise about Ivan Toney.
"He has all the skills," said the Brentford manager. "His link play, his finishing, time in the box and awareness, so I'm sure he will score goals in the Premier League."
The goals have certainly been there. Twelve last season, 16 this term with a dozen games to spare.
But it's the link play that has been a key factor in Brentford's success this season. This led Jamie Carragher to describe him as "one of the best attacking players in the league", "an all-around footballer" and "reminiscent of Harry Kane".
That last point is especially poignant given the England team announcement on Thursday. Despite a betting scandal looming over the Brentford striker, Gareth Southgate has decided that Toney can not only fit into this England attacking department, but also bring something extra.