The FA Cup has reached the quarter-final stage with four delightful ties beginning with Burnley's short trip to face Manchester City on Saturday night.
Master vs. Apprentice when Kompany returns to town
Manchester City vs Burnley – Saturday, 17:45
Vincent Kompany lifted the Premier League trophy four times during a glittering career with Manchester City in which he also won two FA Cups and four League Cups.
His statue stands outside the Etihad. He was an inspirational leader and remained highly influential even in his later years at the club, when his playing time was often limited by injury.
Now, with his Burnley team galloping for the Championship title, he can afford a day in the Manchester spring sunshine. Such is the sense of optimism that surrounds Kompany and the Clarets, even that may not be too tall a task.
Burnley are 13 points clear of Sheffield United at the top of the Championship with a further six points clear of third-placed Middlesbrough.
Pep Guardiola joked that managing against Kompany, who left City after more than a decade of service in 2019, makes him feel old.
The City manager said: "He was an incredible figure here. He's one of the biggest legends I've ever had. On the other hand, I'm worried because when you start playing a game and the opponent on the touchline is a player you had , you realize how old you are getting!
"It's a bit frustrating, but it's good to see. He wants to win, we want to win and we'll take it seriously."
City have won their last 10 FA Cup home games, scoring 41 goals and conceding just four. However, their last such loss came against a Championship side, going down 2-0 against Middlesbrough in January 2015.
Guardiola has pointed to Kompany as a possible successor to him at City. Well on his way to a return to the Premier League, the stage is set for the apprentice to meet his master.
ben grounds
Man Utd feel at home in cup competitions with Ten Hag
Man Utd vs Fulham – Sunday, 4:30pm
Another cup tie, another home game for Manchester United. This is their tenth domestic cup game in which they have been drawn to play at Old Trafford. The odds of that happening are a staggering 1.0241/1. However, it's unlikely that you'll get much of a return on a bet on them progressing from this one.
Erik ten Hag's side will be the clear favorites on Sunday afternoon as they were able to rest and rotate some key men to their Europa League round of 16 victory at Real Betis on Thursday and bring out the likes of Marcus Rashford and Bruno Fernandes in the middle of the second. half in Spain.
Joao Palhinha's return after suspension will give the visitors a boost. They have been well below their best in their last two Premier League games without the destructive midfielder at the heart of their system. Marco Silva can also reflect on his side's 2-1 defeat to United at Craven Cottage, where only a last-gasp goal from Alejandro Garnacho denied them a deserved point in November. Garnacho is injured this time, while Casemiro begins a four-game suspension.
But with just one win in their last 25 trips to Old Trafford and talismanic Aleksandar Mitrovic goalless in 11 FA Cup appearances, there are plenty of ominous omens for pessimistic Fulham fans to choose from.
The odds will point to Man Utd progressing to a record 31st FA Cup semi-final.
Peter Smith
Can Brighton march to Wembley?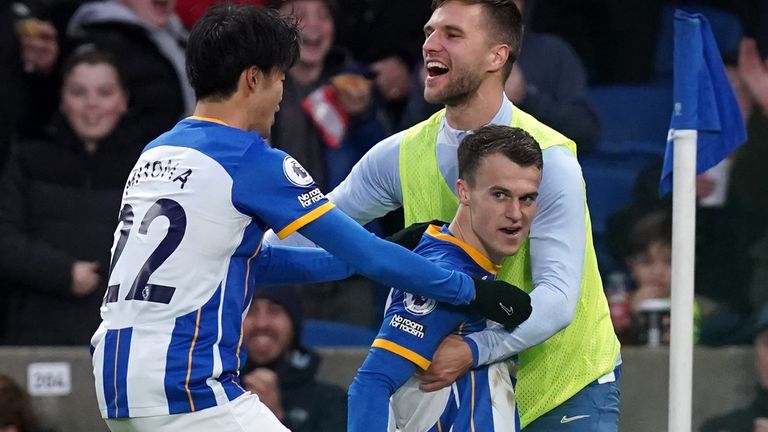 Brighton vs Grimsby – Sunday, 2:15pm
It's been quite a week for Brighton owner Tony Bloom, dubbed the 'smartest man to ever place a bet', after watching his horse Energumene defend its Champion Chase crown at Cheltenham on the same day as bitter rivals Crystal Palace were put to the sword. at Amex Stadium.
Bloom, the 'godfather of the game', placed a £400,000 bet on Energumene to pocket £1.2m when his horse emerged triumphant on Wednesday, and on Sunday night he could well be making plans for his third Cup semi-final appearance. FA. in Brighton history.
Brighton have League Two Grimsby standing in their way. Phil Jevons scored the winner at Blundell Park the last time these two teams met in February 2004, but it's fair to say the clubs have gone in opposite directions ever since.
Bloom and Brighton will not see the Mariners as a soft touch after they became the first team in FA Cup history to knock out five teams from a higher division in a single season in the competition.
One player who will be determined to book an appointment at Wembley is Solly March, the in-form midfielder who was unlucky enough to miss England's first squad for the upcoming European Qualifiers against Italy and Ukraine.
Since the Premier League returned on Boxing Day, only Marcus Rashford (10) and Erling Haaland (8) have scored more goals without penalties than March, the cold-blooded assassin seeking the Seagulls' catch of the day.
ben grounds
Does the winner really lose in the tie of all championships?
Sheffield United vs Blackburn – Sunday, 12:00pm
Supporters of all clubs dream of an FA Cup run, but if fans of Sheffield United and Blackburn were to choose when theirs would be, it probably wouldn't be this season.
Both sides are looking to secure promotion to the Premier League to boost their long-term future. Particularly Blackburn, who are looking to seal a place in the top table of English football for the first time in 11 years.
But now the second-best team in the Championship hosts the fifth-best team in a draw that could actually spell league trouble for the winner.
The Championship season is always hectic with plenty of action on weekdays; now the Blades and Rovers face an even hectic schedule as they are now one win away from Wembley.
Sheffield United are six points ahead of third-place Middlesbrough, and Michael Carrick's resurgent side now have the chance to give the Blades even more breathing room given that they won't be able to play in the Championship this weekend.
Meanwhile, Blackburn are in a tiebreaker battle that arguably consumes the entire top half of the table. A week off doesn't help his claims.
What will the championship standings look like when the FA Cup quarter-finals are over?
sam blitz
Another free hit for Grimsby in their cup run for the ages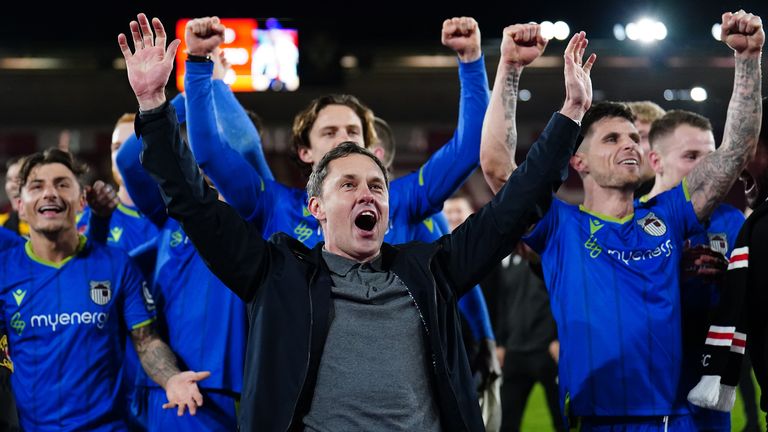 Brighton vs Grimsby – Sunday, 2:15pm
The Mariners' return to the EFL after a season in the National League to Sky Bet League Two has been solid, if not spectacular. They sit 15th in the table with 12 games to play and are 16 points above the relegation zone.
A late play-off run isn't out of the question, but it's more like the club just going through the motions of the final weeks of the season, until it reaches its conclusion.
It's been a totally different story in the FA Cup. Paul Hurst's men have embarked on a true cup run for history, proving, if ever there was any doubt, that the magic of this historic competition is alive and thriving.
As mentioned above, Grimsby are the first team in FA Cup history to knock out five teams from a higher division in a single season in the competition, having beaten Southampton of the Premier League, Luton of the Championship and Plymouth, Cambridge and Burton of League. One.
The reward for their monumental efforts is a first FA Cup quarter-final since the 1938/39 season, when they beat Chelsea at Stamford Bridge to set up a semi-final tie with Wolves, who they lost 5-0.
This is a free kick for the club, there is no doubt about that.
Lose and they can hold their heads up, having made history and a pretty penny along the way. Win and the extraordinary season is kept alive, there is an extra £450,000 in the bank and a trip to Wembley guaranteed. Don't discount Hurst and Co just yet.
give long