Chris Woakes believes home advantage stacks the odds in India's favour at the Cricket World Cup but insists his England side are motivated to "knock them off their perch".
The last three editions of the tournament have all gone the way of the host nations, with India lifting their last global title in Mumbai in 2011, followed by Australia in Melbourne in 2015 and England at Lord's four years ago.
India have done little to reduce their status as pre-competition favourites, kicking off their campaign with heavy wins over Afghanistan and Australia, whiles Pakistan, New Zealand and South Africa also have two wins from two.
But Woakes, who was part of Eoin Morgan's triumphant team in 2019 and is looking for a repeat performance, is not overawed.
"It's an incredibly tough challenge to win in India. Naturally, I think the sub-continental teams will feel more at home with the conditions," he said.
"That makes it extremely hard for us to knock them off their perch, so to speak. But we've got the squad and the players to be able to compete. People have looked at us for a while and we've had a little bit of a target on our back as a white-ball team, around the world.
"It's a tough competition to win isn't it? Especially here. But we'll give it a good crack. We're taking it each game as it comes. Naturally, people have got expectations of us and we've certainly got our own expectations of ourselves."
England's defence is back on track after they followed an opening defeat to New Zealand with a 137-run success over Bangladesh, with their shifting fortunes exemplified by Woakes' own figures.
The 34-year-old was off the pace against the Black Caps, leaking 45 runs in six wicketless overs, but warmed to his work on Tuesday night, opening his account with the wickets of Mehidy Hasan Miraz and Tigers top-scorer Liton Das.
Unfancied Afghanistan are next, in Delhi on Sunday – live on Sky Sports Cricket from 9am (first ball at 9.30am), with Woakes eager to continue his upward trajectory.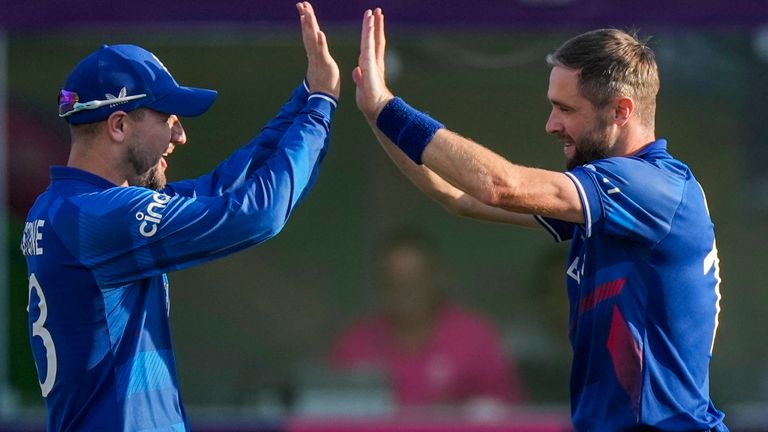 "It's the start of a long tournament," he said. "I certainly feel that I would've liked to have bowled a little bit better but they are long competitions and you don't want to peak too soon, I suppose.
"I have built into tournaments in the past and into series, which I suppose holds me in good stead moving forward. But you contribute every time you go out in the field so I'll be working hard in practice to try and make sure that I'm on the money when I get the opportunity."
Woakes has no plans to be at Olympics
Woakes also had his say on the news that cricket was on the cusp of making its return to the Olympic Games, having last appeared as a one-game showcase in 1900.
The Warwickshire all-rounder does not expect to be around for Los Angeles 2028, but is enthusiastic about the sport moving onto a new stage.
"I don't think I'll be playing at that age, but I think it would be great," he said. "Getting the game in front of more people is what we need to do. For a sport that I've played since I was a child, to be a part of the Olympics would be amazing for me.
"To be sat at home watching the lads taking on the rest of the world as an Olympic sport would be massive for the game. The more people that we can get watching it and maybe looking to take it up the better, and growing the game around the world is hugely important."
What's next at the Cricket World Cup?
The Cricket World Cup continues with a clash between New Zealand and Bangladesh on Friday, live on Sky Sports Cricket from 9am (first ball at 9.30am).
England take on Afghanistan on Sunday, while Australia Australia face a crucial match against Sri Lanka on Monday, with victory almost certainly a must already – both games live on Sky Sports Cricket from 9am (first ball at 9.30am). Full World Cup fixture list and timings can be found here.
Watch every game of the 2023 ICC Men's Cricket World Cup live on Sky Sports. You can stream the tournament on NOW