The Real Whacker and Sam Twiston-Davies brought the house down by holding off Gerri Colombe's late charge to take the Brown Advisory for trainer Patrick Neville.
It was a jumping masterclass from The Real Whacker that sealed the deal, leading from the front and not to be headed despite a galvanized Gerri Colombe flying home under Jordan Gainford's drive in the final 100 yards.
Victory is all the sweeter for manager Neville, who left coaching in Ireland to move to Ann Duffield's North Yorkshire base, citing a lack of owners to bring his relatively small roster to the UK.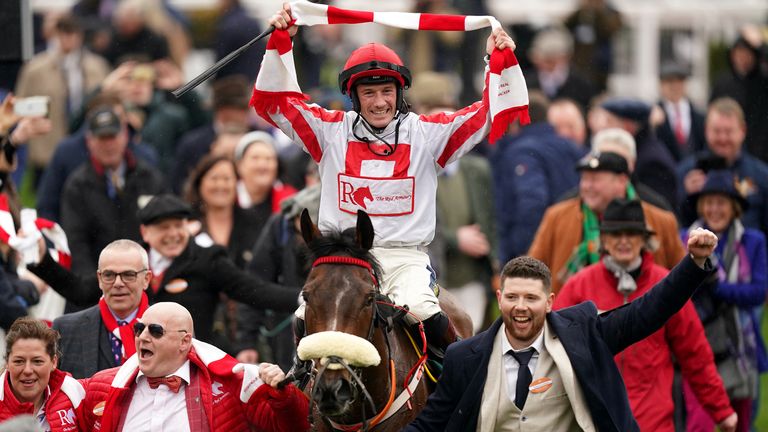 That move proved to be vindicated with a Grade One success at the Cheltenham Festival, defeating Irish heavyweight trainers Willie Mullins and Gordon Elliott in the process.
Early skirmishes saw The Real Whacker and Bronn, who stayed on to finish third, battle it out but eyes turned to Sir Gerhard who took some poor jumps in the first mile.
He soon warmed to the task and, coming down the hill for the last time, looked to have every chance alongside Gerri Colombe who was pressured to find more in the closing stages.
The front two managed to pull clear and were four lengths back jumping last, with Bronn wilting away and The Real Whacker staying and then holding off a determined late charge from Gerri Colombe to win by a nose.
Bronn eventually moved back into third for Daryl Jacob, with I Am Maximus again in fourth for Willie Mullins' team.
The imagined Thyme Hill jumped poorly and was ultimately well beaten in eighth, with Sir Gerhard a place further back having been relieved close to home.
"It was a fantastic race, it's always a privilege to be asked to participate in these races," said the winning driver delighted.
"I was lucky to ride him in the Dipper, let alone today too. Paddy Neville, all the time, has been very supportive. He said he was on a good game and clean, it was absolutely perfect."
"He runs excellent, even though he's up front and doing a lot of the hard work, you can get air wherever you want."
"With her jumps, she's always filling up, oh my gosh, she feels like she's come a long way!"