Sire Du Berlais rolled back the years to cause a major upset in the Paddy Power Stayers' Hurdle at 33/1.
A double winner of the Cheltenham Festival, taking both the 2019 and 2020 editions of the Pertemps final, Gordon Elliott's 11-year-old was an outside hope in what was an open and competitive renewal of the three-mile feature at the Day Three.
Two of the most fancied contenders and other Irish runners, Home by the Lee and Flooring Porter, the defending champion, did much of the running, the former having to fight a serious mistake early on.
Jeremy Scott's Dashel Drasher (40/1) looked a long way as if he could be a surprise winner, looking difficult to pass as the field went up the hill.
Favorite Teahupoo had traveled well throughout but struggled to get to the front when it came time to push under Davy Russell, with Flooring Porter staying by his side.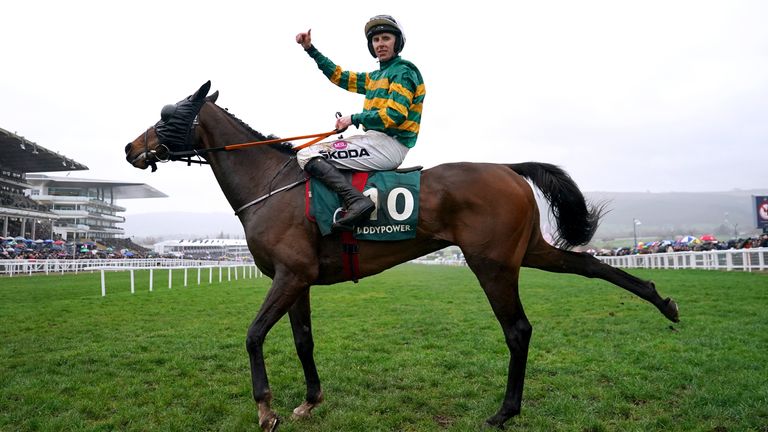 Instead, it was Teahupoo's stablemate Sire Du Berlais, at the grand age of 11, who powered the inside of Dashel Drasher to win by just under a length.
Dashel Drasher was second on the line, ahead of Teahupoo and Flooring Porter, but was demoted to third after a stewards' inquiry ruled that he had interfered with Teahupoo, who inherited second place.
Elliott said: "After one or two hurdles, I knew I was in a good rhythm. Of course it's a surprise, but Sire Du Berlais can do that, it's first or last. He stayed well up the hill to be fair to him and Mark (Walsh) gave him a brilliant ride.
"It's great to win the race. They beat us to the head in a Grade One yesterday (with Gerri Colombe) but it's a great match and it's great to be here.
"We couldn't qualify him for the Pertemps final. It just didn't work out for us with ground one day and he probably didn't look as good at a disadvantage."
"He doesn't do anything too exciting as himself, but that's why he's still going at his age.
"I thought Teahupoo would win. He traveled and ran well."