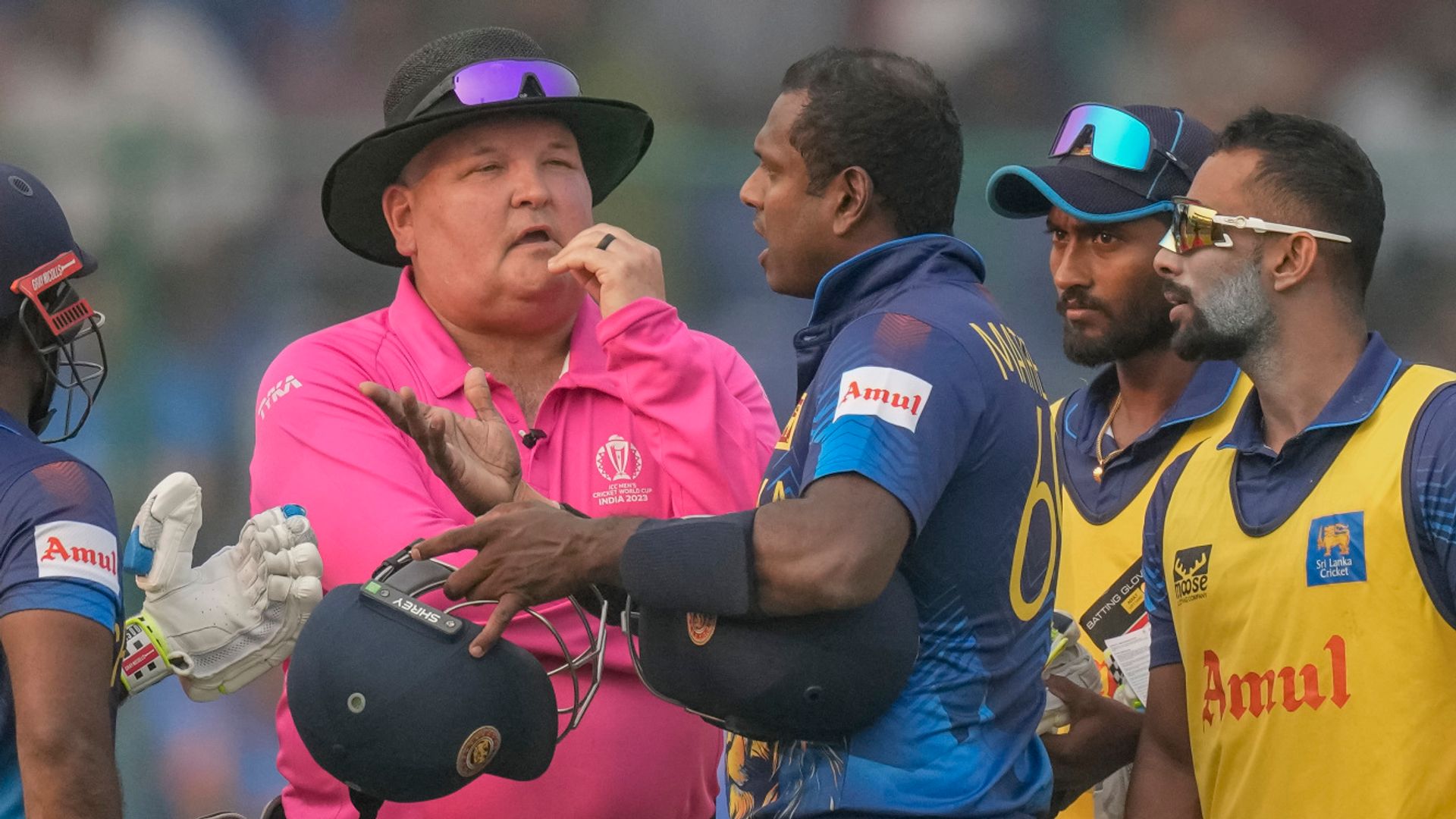 Angelo Mathews branded Shakib Al Hasan's actions "disgraceful" and accused the Bangladesh captain and his team of bringing the game into disrepute following the Sri Lanka all-rounder's contentious dismissal in their Cricket World Cup match on Monday.
Mathews suffered the dubious honour of becoming the first player to be timed out in international cricket after Shakib appealed he was not ready to face the first delivery within the required two minutes after coming out to bat at No 6 during Sri Lanka's innings, due to the strap on his helmet being broken.
The 36-year-old was subsequently given out by on-field umpires Marais Erasmus and Richard Illingworth, with Sri Lanka going on to lose to Bangladesh by three wickets in Delhi to end their hopes of reaching the semi-finals, and Mathews lashed out at Shakib in his post-match press conference.
"I had two minutes to get to the crease and get myself ready, which I did, and it was an equipment malfunction," Mathews, who remonstrated with the umpires and Shakib before departing the field, said.
"I don't know where the common sense went because it's obviously disgraceful from Shakib and Bangladesh.
"If they want to play cricket like that and stoop down to that level, I think there is something wrong drastically. I still had, after my helmet broke off, five more seconds to go, and the umpires have also said to our coaches they didn't see my helmet breaking – I was asking for my helmet there.
"I'm not talking about Mankading or obstructing the field, this is just pure common sense and bringing the game into disrepute – it's absolutely disgraceful."
The MCC's Laws of Cricket state a batter must be ready to face the first delivery within three minutes but the ICC playing conditions for the Cricket World Cup, which supersede the laws, stipulate that it is two minutes.
Shakib, who was named player of the match after striking 82 from 65 balls to go with 2-57 in Sri Lanka's innings as Bangladesh chased down the victory target of 280 with 53 balls to spare, was unrepentant.
The skipper revealed he decided to appeal for Mathews to be timed out after being alerted to how long he had taken by one of his Bangladesh team-mates.
"One of our fielders came to me and said that if I appealed, he would be out," Shakib said. "The umpire asked me if I was serious. It's in the laws, I don't know if it's right or wrong.
"I felt like I was at war – whatever I had to do, I did it. There will be debates; today that [Mathews being timed out] helped, I won't deny that."
That was not a view shared by Mathews though, who went on to add he believed the decision to appeal lacked common sense.
"You need to respect people who respect us," Mathews said. "They have to respect the game itself.
"We're all ambassadors of this game, including the umpires. So, if you don't respect and don't use your common sense, what more can you ask for?"
Watch every ball of the 2023 Cricket World Cup in India live on Sky Sports Cricket. You can also stream the tournament without a contract through NOW.